Welcome to Advanced Veterinary Mobile Diagnostics, PC
Dr. Judy Pawlusiow DVM, Diplomate ACVIM (SAIM)
Advanced Veterinary Mobile Diagnostics, PC is not a general housecall practice. It is a specialty internal medicine practice - AVMD does not provide housecall examinations, vaccinations or euthanasia services. If your pet is having a medical emergency, please call your regular veterinarian or local emergency veterinary clinic.
Canine congenital deafness testing (BAER TEST) is now available as a mobile service! This service offers convenience and confidentiality for owners and breeders seeking hearing certification for pets. Available for participation in breed club health clinics.
With AVMD BAER MobileTesting Service, Dr Judy Pawlusiow will travel to your clinic, your kennel, home or breed club to provide BAER testing on site. OFA and AKC certifiable test results are provided at the time of examination. No sedation is used and owners can hold their own pets for the procedure. Email [email protected] for information regarding deafness testing for your pet . Veterinary licensed in NY, NJ, CT, PA, NH, VT, MA, ME, MD, AZ and RI.
Dr. Judy Pawlusiow DVM, DipACVIM(SAIM) is a Board Certified Small Animal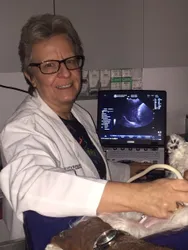 Internal Medicine Specialist with over 25 years of experience providing mobile veterinary ultrasound and diagnostic services to veterinary practices in the metropolitan New York area and surrounding states. She is the founder and sole owner/operator of Advanced Veterinary Mobile Diagnostics, PC. The company is an independently owned and operated mobile specialty practice and places you and your pet first and foremost.